LED packaging as upstream and downstream industry side of the connection point, plays a key role in linking. In the LED high efficiency,power, high reliability and low cost development, the requirements of the package increased. As a result, the packaging industry has been at a stage of rapid drive and development of new materials and technologies in recent years. Emerging packaging forms and technologies are unique, such as EMC, COB, flip chip, CSP and so on. Below, Lepower will take you into the LED packaging world!
  What is LED package
  LED packages are assemblies that house the LED chip. There are many types of LED packages in use today, each with particular applications and advantages.
  The purposes of LED packages include:
  1. Protecting the LED chip and welded lead wires from direct contact with the environment.
  2. Securing and encapsulating the chip with LED phosphors and epoxy silicone resin.
  3. Allowing for versatility and standardization in LED lighting applications
  LED package format
  Since the photons emitted from the pn junction of the LED chip are non-directional, that is, emit the same probability in all directions, not all the light generated by the chip can be emitted. How much light can be emitted depends on the quality of the semiconductor material, the chip structure, the geometry, the package's interior material, and the packaging material. Therefore, for the LED package, we should choose the right package format according to chip size, watts size.
  Lepower shares the package of devices mainly uses the following technologies:\
  Encapsulation without gold wire
  Flip chip LED is based on the flip chip encapsuation technology, during the
  production, tin paste PCB go through the reflow soldering machine, or alloy
  soldering tech, bonding the LED chips and bases, to achieve the
  encapsulation without gold wires. It utterly solves the problems of chip
  failure, flickering, light decay which cgoldsed by gold wiring. Currently
  Lepower is using wave soldering machine with tin paste to produce Flip
  chip LED.
  Flip chip product with welding technology
  Precipitation process package technology
  Low CRI high efficiency package technology
  High CRI high efficiency package technology
  Application
  Downstream LED packaging applications are LED lighting, LED display and LED backlight and so on.

  LED market begins in the LED backlight, mature in the LED lighting, with the mid watts technology, automotive LED market in recent years attracts much attention, Most LED package factories start layout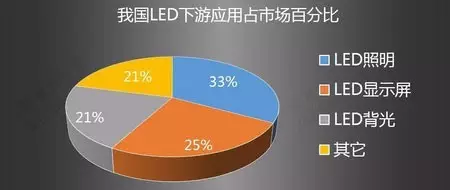 In terms of applications, "COB is suitable for commercial lighting, focusing on light color and light quality; flip chip for mobile flash and street lighting; CSP in the field of LED backlighting, mobile flash market has been growing; EMC in the largest alternative lamp market occupies a larger market share, such as bulbs, lamps, panel lights, down lights, etc. have been extensive use of EMC lamp beads.