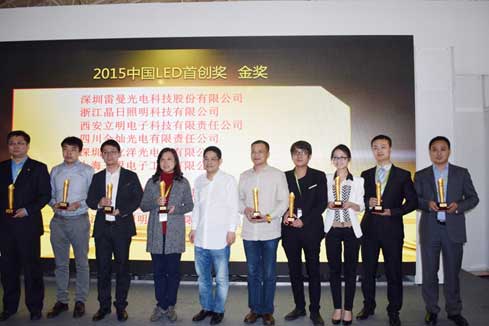 Wu Shenjun,GSR Ventures's president,award for excellent enterprise .
  The 2nd China LED First Awards Ceremony was held in Beijing on April 23th,2015. Lepower Corp were invited to attend the award ceremony, Its LED street light module series (1003-30) won the GOLD AWARD.
  The INNOVATION PRIZE for China LED is consisted of China lighting association,CSA,professional of China lighting academy's semiconductor lighting technology and application of the LED industry's top innovation awards,attracting CREE,Samsung LED,Lumileds,Leishi,OPPLE,and a number of well-known domestic & foreign enterprise to participate in. Lighting Industry leaders attended there: China lighting association' director Xu Huai, CSA Secretary-General Wu Ling, Secretary-General of Taiwan LED Lighting industry alliance, Xiao Hongqing, Elec-Tech Ltd,President of NVC,Wang Donglei, Samsung's LED China District General manager,Tang Guoqing and others.
  It is reported that Lepower Corp presented "1003-30 leds in one street light module" to participate in the selection of the first prize,which received lots of applause. The Secretary-General of China lighting association,Dou Linping said that Lepower corp as the leading of high power LED light source manufacturer ,has played an important role in developing,innovating LED lighting industry field.
  The Architechture & Environment of China Academy,Energy Conservation Research Institude,Zhao Jianping said our adopting MLA(MICRO LENS ARRAY), is surface emitting tech and the highest efficiency LEDs in the world for mass production. Adoption of fin structure 'thick top and thin buttom' ,combinating the patented,researching & designing optical lens,luminous efficacy can be up to 170lm/w,which would help upgrade whole industry field's level.
  Meanwhile,Lepower Corp won the title of " first enterprise award"
  During the same period also hold the "LED crossover innovation Beijing BBS ",Yinghui lighting general-manager Lv Weidong and CREE optoelectronic general-manager,Shao Jiaping had attended the meeting,talking about the industry Internet thinking,LED lighting and the corperation.